Welcome to the site of the Embassy of the Republic of Serbia in Japan. My name is Nenad Glišić and I am the Ambassador of the Republic of Serbia. It is with a great sentiment that I took over this position since I spent my early academic days in Tokyo, back in the seventies, and here I am today, 35 years later, as a senior diplomat.
Representing Serbia in Japan is a great privilege that brings great responsibility and yet strong motivation and sincere desire to deepen our bilateral relations and friendship between our two nations.
Although there are no written records about the first contacts between Japanese and Serbian people, there are many stories that tell us how our nations started to build friendly exchanges already during the Byzantine Empire. At the time, Serbia was a highly developed medieval state, ruled by the Nemanjić Dynasty since XII to XV century, prior to the Ottoman Empire invasion and rule.
Serbian King Milan Obrenović the First, following Berlin Congress in 1878, which recognized Serbia as an independent state, wrote, after his coronation in March 1882, a personal letter to Japanese Emperor Meiji. This was the first diplomatic correspondence between sovereigns of Serbia and Japan.
Milan the First informed Emperor Meiji that, on July 13, 1878, "the great European powers, gathered at the Berlin Congress, officially recognized the independence of Serbia" while he became the first King of Serbia upon independence had been won back from the Ottoman Empire. Below are the letters exchanged between our sovereigns, in French and Japanese, and their portraits.

| | |
| --- | --- |
| | |
| | |
| --- | --- |
| | |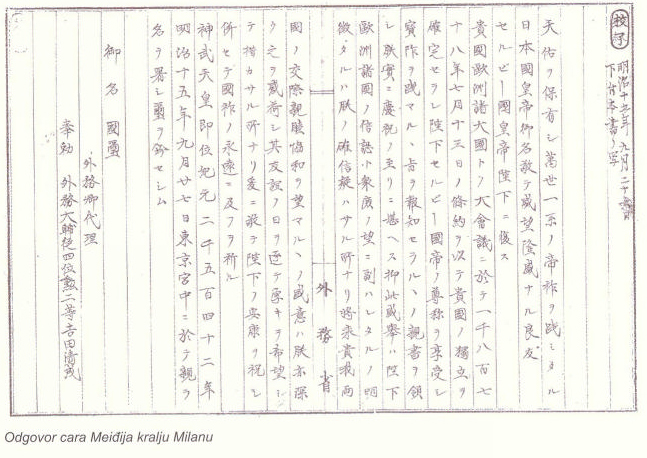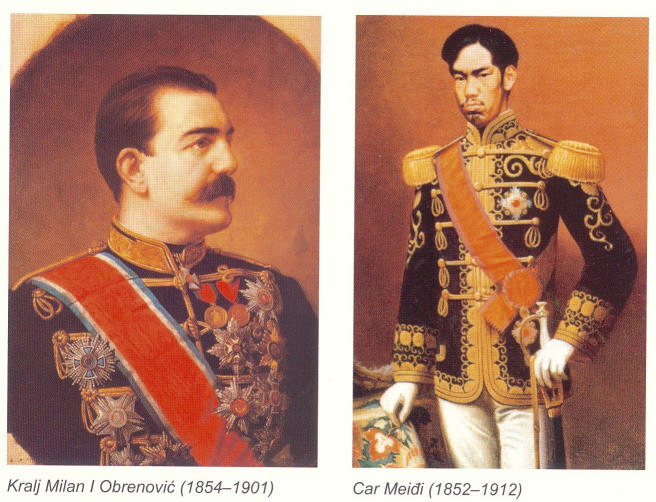 In Year 2012 we celebrated 130th anniversary of the first diplomatic correspondence between Serbia and Japan. This important date was marked by numerous events organized in both countries. It is a great honor to mention that the Embassy of the Republic of Serbia to Japan contributed to the realization.

Since the earliest days, two nations have built sincere friendship based on solidarity and mutual cooperation. Japan has provided significant support to Serbia, starting with the year 2000, in healthcare, education, public transportation and in other fields.

Citizens of Serbia have never forgotten Japanese support and friendship. Shocked by devastating consequences of Great Tohoku Earthquake in 2011, Serbian people organized many events to express their sincere compassion and solidarity for Japan. Although a small country, Serbia was among countries who donated substantial aid to Japan.

We are very proud of a long history of amicable relations between Serbia and Japan. This tradition is, at the same time, a pledge to deepen our relations and build even stronger ties between our people.

I believe that this address is only a beginning and sincerely hope that our web site will move your interest up to learn many more about Serbia. An exquisite country with rich history and cultural heritage, with an open heart and unmatched hospitality. Please do not hesitate to send us inquiries, visit the Embassy and seek for information and support in developing cooperation between Serbia and Japan or use our resources in domain of economic and consular affairs.


Nenad Glišić
Ambassador