New brochure SERBIA - Emerging tech development hub with details on support to the development of innovative economy was published by the Government of the Republic of Serbia at the following link https://innovations.serbiacreates.rs/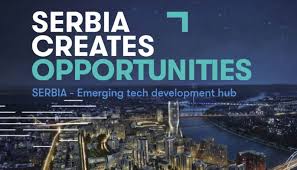 Executive summary

Serbia is an emerging tech hub in Europe, conveniently located and open for business.
• An internationally acclaimed and growing engineering talent pool. Compulsory coding from the 5th grade, specialized IT streams in secondary schools, increased number of students in STEM programs, incentives to attract top talent.
• The most competitive corporate taxation in Europe. Companies can achieve 0% corporate income tax by combining the accelerated R&D deduction and IP box regimes. There is also a 30% tax credit for startup investments and attractive taxation of employee share plans.
• The Serbian Government as a partner committed to digitalization. The digitalization of public services and the growth of the tech private sector are number one national priorities.
• Top international tech companies, such as Microsoft, NCR, Epic Games, Continental and others, have already established R&D centers in Serbia with great success. Node, the first AI-as-a-service platform for businesses, recently opened in Serbia as a hub for its European expansion.
• Serbian tech companies are also making it big abroad. Nordeus is the world's leading mobile gaming developer and publisher; Seven Bridges is a leading genetic research company and is rated as one of the world's 50 smartest companies.