First Deputy Prime Minister and Minister of Foreign Affairs of the Republic of Serbia Ivica Dačić on 15 August met in Belgrade with Minister for Foreign Affairs of Japan Taro Kono, who is on a day-long visit to Serbia.
Minister Dačić said that he was pleased with the fact that after 18 years a Foreign Minister of Japan was visiting Serbia and that this visit as well as the announcement that Serbian President Aleksandar Vučić would attend the Japanese Emperor Naruhito enthronement ceremony in October testify to the deepening of Belgrade-Tokyo relations.
"We are proud of the long-standing tradition of political relations with Japan", said the Serbian Foreign Minister, noting that he and Japan's Minister agreed today to proclaim 1882 the Year of Friendship between the two countries, as this was the year when correspondence was established between Serbian King Milan Obrenovic and Japanese Emperor Meiji.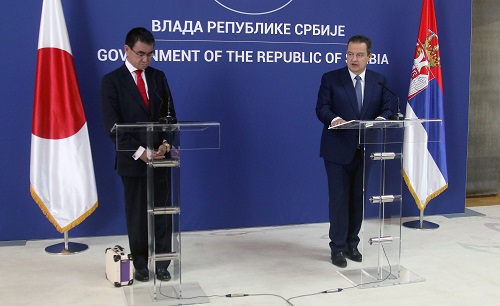 Minister Taro Kono said that visits of the two countries' officials should be arranged more often and thanked Minister Dačić for the hospitality.
"Our bilateral relations have expanded significantly since the visit of Prime Minister Abe last year", said Taro Kono and added that today he discussed with the Serbian Foreign Minister the ways to advance our bilateral relations in various areas, while agreeing to begin preparations for the marking of the 140th anniversary of friendship.
Statement about the meeting at the website of the Ministry of Foreign Affairs of the Republic of Serbia